*Il prezzo si intende IVA esclusa
Descrizione
MODELLO - MODEL
MODELO
FTDBB-7/16-7/8
Questa antenna a dipolo larga banda , è stata costruita con acciaio inox per la sua durata in qualsiasi condizione climatica. Le parti isolate sono in PTFE (teflon). Data la sua robusta costruzione può sopportare 2 Kw con il connettore 7/16 o 5 Kw max. con il connettore 7/8. Questa antenna è raccomandata per un servizio omnidirezionale dato il suo ampio angolo di radiazione. E consigliabile non superare 1700w per il connettore 7/16 e 3000-3500w per il connettore 7/8.


This broadband dipole antenna constructed of stainless steel is designed to last a long time in any weather condition. Because of its sturdy construction it can support up to 2 - kw of input power with the 7/16 or LC, 5 - kw of 7/8. Since it has a wide angle of radiation it is suggested for omni-directional arrays.

Esta antena dipolo de banda ancha, fabricada de acero inox fue concebida para ser duradera en cualquier condición de clima. Las partes isoladas estan en teflon . Debido a su robusta construcción puede soportar hasta 2 - kw de potencia de entrada con el conector de 7/16 y 5 - kw pico pico con el conector de 7/8 . Esta antena es recomendada para formaciones omnidireccionales ya que tiene un gran ángulo de irradiación. Se conseca de no superar 1700w para el conector 7/16 y 3000-3500w para el conector 7/8.
TECHNICAL SPECIFICATIONS:
ELECTRICAL DATA:
MECHANICAL DATA:

Model:FTDBB/7/16

FTDBB/7/8

WEIGHT: Kg. 9 STAINLESS STEEL
IMPEDANCE: 50 ohm
MOUNTING: WHITH STANDARD -CLAMP 50-110 MM.
FREQUENCY RANGE: 87.5-108 Mhz
DIMENSIONS: 1365X1113X60 MM.
GAIN: 1 dB (half wave dipole)
RADOME: FIBER GLASS (OPTIONAL) -WHITE
TYPICAL - V.S.W.R.: <1.2 : 1
MATERIALS HARDWARE MOUNTING: STEEL GALVANIZED.
POLARIZATION: LINEAR VERTICAL
ISULATOR: PTFE (TEFLON)
MAX. POWER: MEDIUM POWER 2000 W H POWER 5 KW
DIPOLE: STAINLESS STEEL
CONNECTOR TYPE: N female-7/16 or LC female- 7/8
INTERNAL : ALUMINIUM COPPER
WIND LOAD: 32 Kg. 150 Km. Hora
MAX. WIND VELOCITY: 200 Km. Hora
DIAGRAMMI ORRIZONTALE E VERTICALE A META
BANDA (98.00MHZ)
H Amplitude V. Amplitute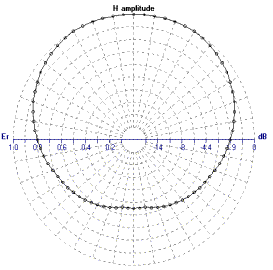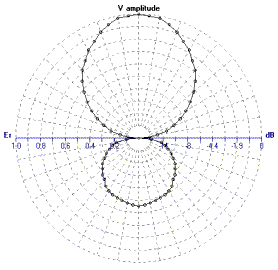 200° 90°
Per informazioni e pagamento scrivere a questa Email.
For detailed information and payement, writting to the following Email.
salesfalcotel @ falcotel.net

SEDE OPERATIVA VIA ACQUEDOTTO,57/A 44123 LOCALITA SCIOPERINA (2 PAVONI) FRANCOLINO FERRARA ITALY
Tel. & Fax. +39532720067-+39532728098 "SKYPE FALCOTEL"
CREATED BY FALCOTEL FRANCOLINO FERRARA ITALY